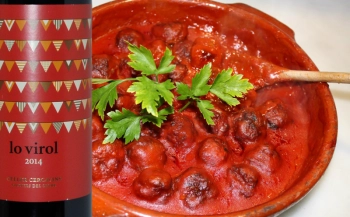 Ingredients
chopped beef from Can Mabres
tomato sauce
chopped pork
3 cloves of garlic
2 eggs
fresh parsley
milk
black pepper
breadcrumbs
flour
frying oil
salt
Variants
You can modify% beef with respect to pork. I usually do 70% vs. 30%.
You can accompany the plate of peas
You can add a chopped almond, saffron and carquinyolis at the end
Preparation
Let's go for the meatballs. Mix the two meats well ... and get out.
Add also black pepper. Like a teaspoon
Add chopped garlic and parsley ... but do not mix still.
Add the eggs ... although with a single egg, for me, it's enough.
Now, in another bowl, mix bread crumbs with milk, soaked. With three sprigs of three slices of bread is enough.
Make a paste ... with your hands clean.
Now add this pasta to the meat ... three or four spoonfuls of grated bread ... and stir everything together. And now ... holy patience ... and shaking your ass for a while.
Once the balls are done, they will get angry.
Heat a pan with plenty of oil to fry ... and fry it. Let them take a good color.
How do you get them ... you can add them to tomato sauce. Until you have them all done.
Now we just have to heat up everything before serving.
And here you have meatballs with tomato throughout your life.
Pairing
You can accompany this dish with a wine of the
Lo Virol Negre 2015
of Cercavins Celler, a red wine with aubergine high-layer, ripe velvety blue and half-stained tear and tightly attached to the cup wall. Fresh aromas and varietal character, with presence of black fruit (blackberry, black plum) and spicy notes (sweet pepper, cilantro) and minerality (wet earth, coal, ink). Structured and wide mouth in the mouth, tannins and acidity present, slightly refreshing finish that refreshes the wine, fresh and vegetable aftertaste (cut grass) and balsamic retronasal. (eucalyptus).